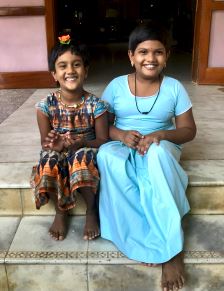 Name: Sudali Kumari (right)
Age: 8
DOB: Sept 27, 2010
Length of Time: Since 05/2018
School: 4th STD

Background: Sudali Kumari is older sister to Nageshwari who is also at the children's home.


They were both brought by their mother to the Children's

Home for fear that they would be infected with Tuberculosis, Their father is in the advanced stages of the disease. Both have adapted very well and are happy.


Sudali had a fire accident at a very early age,which required operations on her legs to heal. She has recovered from this accident, even though she still feels pain occasionally.


Sudali is a responsible sister who takes care of her younger sister Nageshwari very well.
Photo to the left: Sudali Kumari.(right) is sitting next to her sister Nageshwari.