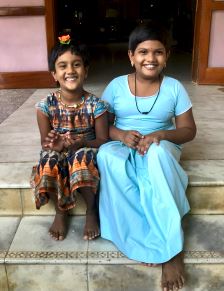 Name: Nageshwari. (left)
Age: 7
DOB: Mar 18, 2013
Length of Time: Since 05/2018
School: 1st STD

Background: Sudali Kumari is older sister to Nageshwari'who is also at the children's home.


Sudali had a fire accident at a very early age,which required a operations on her legs to heal. She has recovered from this accident, even though she still feels pain sometimes.


Sudali is a responsible sister who takes care of her younger sister Nageshwari very well.
Photo to the left: Nageshwari. (left) is sitting next to her sister Sudali Kumari.