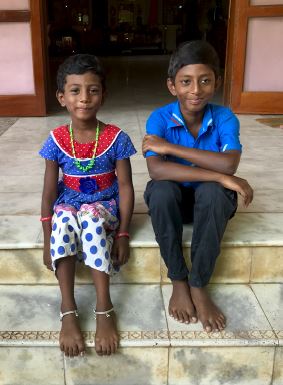 Name: Nithish C. (right in photo)
Age: 9
DOB: Oct 21, 2009
Length of Time: Since 06/2018
School: 5th STD

Background: Nithish lost his mother one year before
admission into the Children's Home. His mother died unexpectedly during surgery. His father is heavily indebted,and left the village for a job in the large city of Chennai. He has hardly any contact with the children.

Nithish's most notable quality is his strong sense of responsibility towards his younger sister. Like his sister, he is also a good student but sometimes too hard on himself for not always achieving his target.
In the company of the other boys he can be his own playful self and puts his responsibility off his shoulders for a while.

In the photo Nithish is on the right sitting next to his sister Dhanshika.